Greenlots' enterprise-grade SKY software empowers our customers to manage charging infrastructure and optimize charging operations.
Greenlots SKY Network Software includes:
Network Management
Our network management solution delivers real-time visibility into the status of all your charging stations, ports, and related components at a glance, including the real-time status of EV chargers, updates, and reporting.
Variable Pricing Engine
With our flexible pricing engine, you can set charging rates based on usage, time intervals, or session, assign physical or virtual groups different pricing rates; and set discounts, free charging, subscription pricing, transaction, and idle fees.
Billing & Payment
Greenlots manages all billing and payment for your EV charging network. Drivers can pay for charging sessions through the Greenlots mobile app, a credit card reader on the charging station, or over the phone.
Advanced Analytics & Usage Reporting
Get access to charging stations' utilization data, analytics, and reporting. Set up alerts that will help increase charger uptime.
Charging Reports
Access, create and download customizable reports on charging sessions, revenue earned, energy delivered, and CO2 emissions avoided.
Greenlots' multi-layer security system protects all data that flows between a utility, Greenlots software, hardware, EV charging station, and session data, EV drivers' personal and financial information, and electricity usage data.
The security system includes:
Data stored in the most secure and reliable cloud platform – Amazon Web Services (AWS) with another protective layer, a Virtual Private Cloud (VPC).
Security groups, IP whitelisting, VPNs, and ISO/IEC 27001 compliance.
Security at the hardware level includes video surveillance, secured lockers, and a high level of data encryption.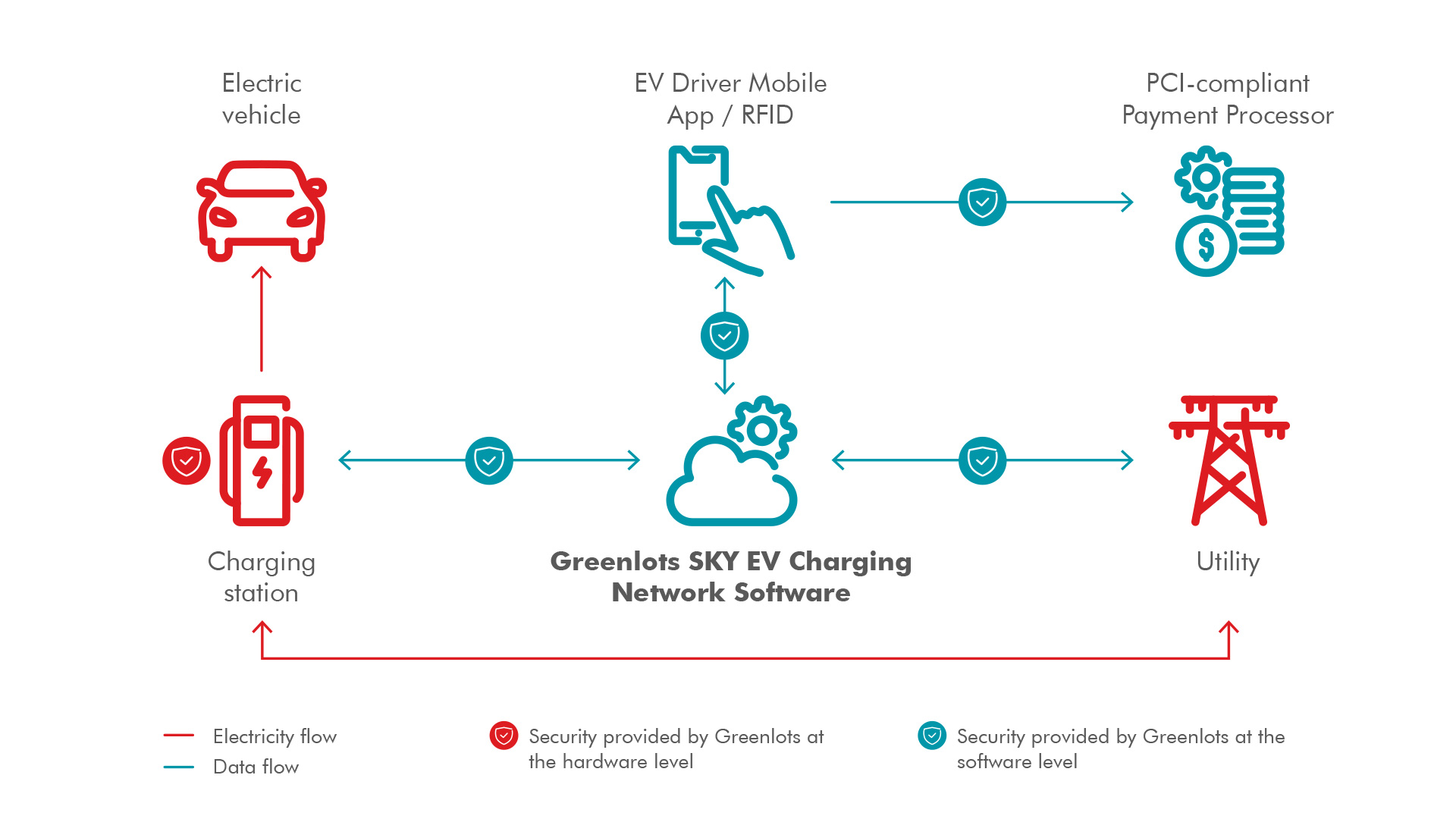 Built on Open Standards
Greenlots SKY Network Software is built on open standards and utilizes the Open Charge Point Protocol (OCPP). This means that our software can communicate between charging stations, networks, and the utility grid. We provide customers the ability to pick from a variety of high-performing charging stations, communicate with other software platforms, and integrate into utility demand response programs. It allows us to design a truly flexible solution for our customers that can grow with their business and the industry over time.